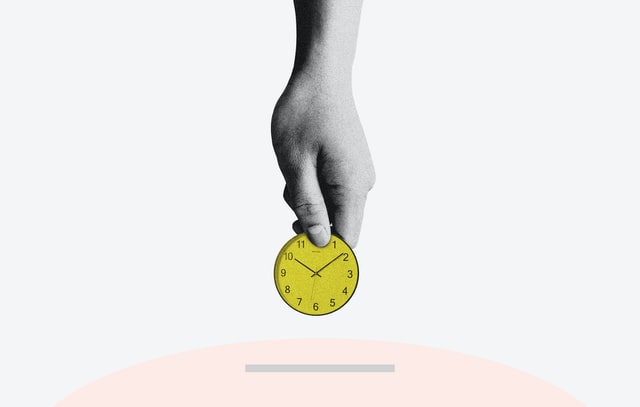 What is the Value of TIME? And how can you get more of it when recruiting for your business?
I shared a video recently on LinkedIn about how some clients were measuring the impact of agencies and the danger of measuring being busy, over productiveness. It got me thinking about the amount of TIME our clients spend on recruitment and so we looked at the stats – Here is what they are telling us…
The Great Resignation and the overall effect of the pandemic have brought increased pressures on Talent Acquisition teams and Hiring Managers right across the UK and Ireland. We have seen our clients faced with a continual demand for new talent, along with retention challenges, and managing the changing expectations of their employees. With this being piled on top of the list of standard responsibilities pre-pandemic, it's now crucial to save as much time as we can when doing any task, without negotiating on quality.
The Challenge
On average, it can take around 30 - 35 hours to recruit one candidate. (It takes a total of 100 hours but 30-35 from job Spec to Offer stage).
When you have 5 new vacancies to fill, most clients still go the model of more agencies = better return.
More Agencies = More resource = More CV's = More Interviews = More and Faster placements = less time to spend on recruitment - or so the theory goes.
However, it isn't working out that way. Below we have compared client feedback over how much time they spend at each stage of the process and compared it with our exclusive approach.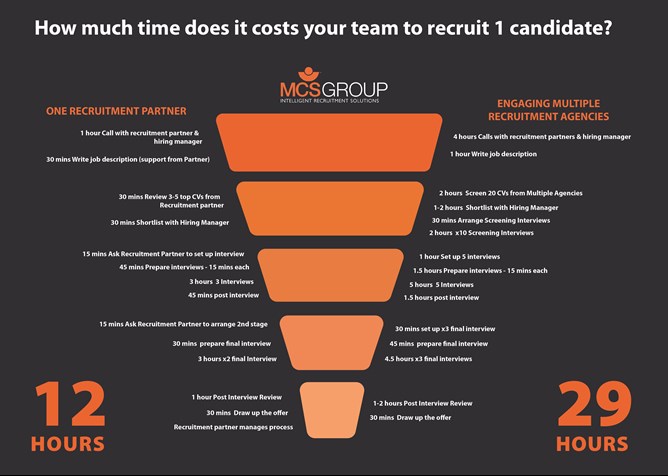 As the graphic above shows, a multi-agency approach still demands significant repeated input from clients.
You spend most of your time managing agency queries, interviewing unsuitable candidates, ensuring your brand is represented correctly. This leads to slower processes which in turn can make a client less agile when it comes to moving an interview process through quickly and ultimately securing the talent they need.
What Service are you Getting?
Pre-pandemic, most recruitment consultants would be working on 3-4 roles per week, and they would have to prioritise time dedicated to each. Currently, with the huge demand in the industry, each week consultants throughout the UK and Ireland could be sent on average 7-8 new vacancies.
How much time is dedicated to your role/ company and needs in this market? How much quality are you getting?
As a sole partner, you show your commitment to the recruiter, and this should be reciprocated in kind by much more time spent on sourcing, updates, and solutions.
See below for the impact.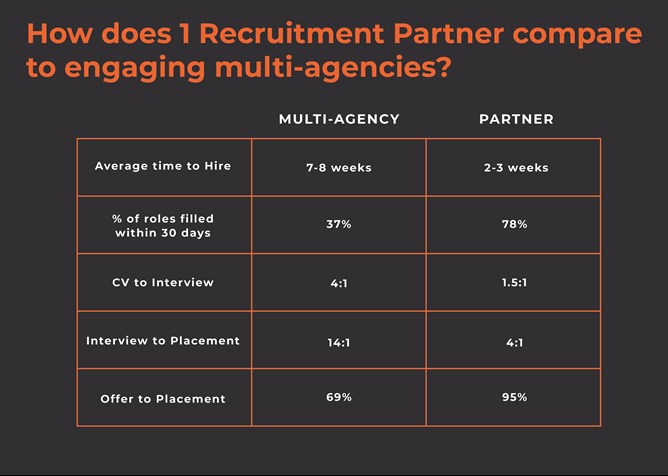 There are several clear benefits to partnering with one recruitment partner rather than multiple. When you are adding to your team, you want to make sure you have tight control throughout the recruitment process and ultimately hire the best person for the role. As the table above shows, the overall time to hire is more than halved. You will also receive less, but higher quality CVs resulting in less, but more valuable interviews and a much higher chance of converting the offer to a placement.
What if you have multiple requirements?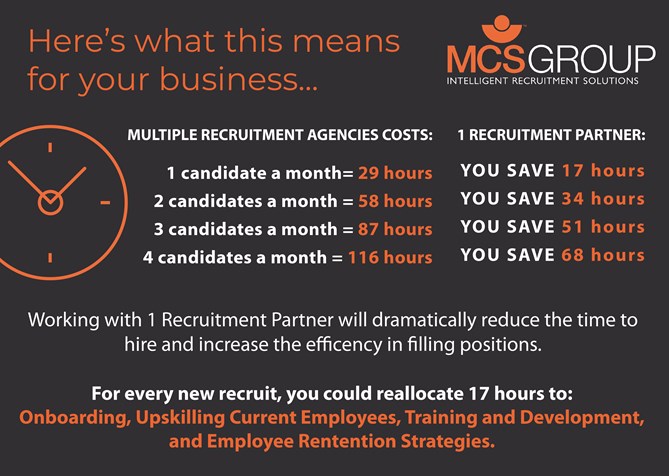 If you develop strong working relationships with one partner, you could save yourself a huge amount of time and work on the business, not in the business.
If you want to calculate the times you spend on recruitment feel free to get in touch at s.devlin@mcsgroup.jobs or 07501500523.