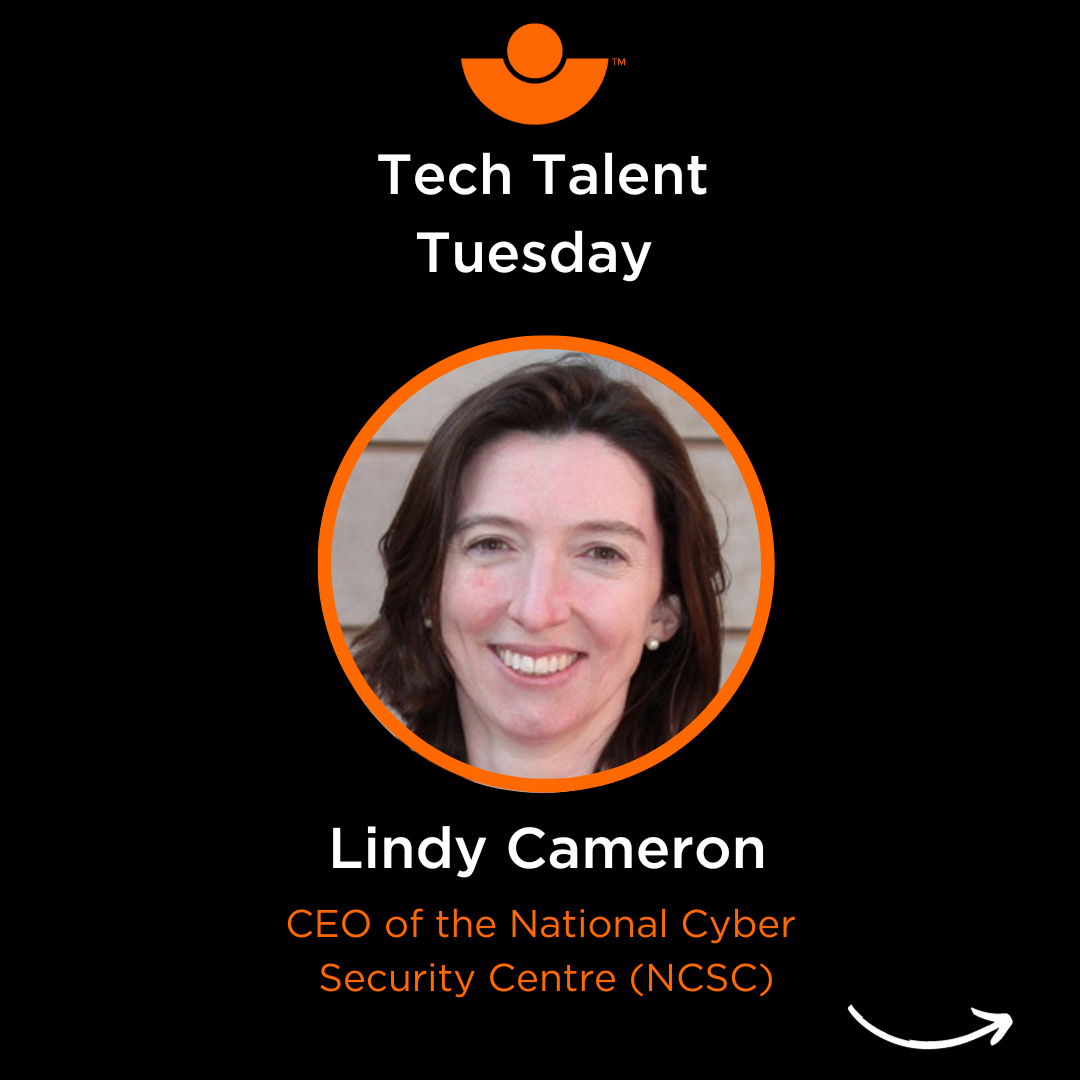 For this week's Tech Talent Tuesday, we honour Lindy Cameron, the accomplished CEO of the National Cyber Security Centre (NCSC). Her extensive career is defined by an unyielding dedication to both national and global security, coupled with a remarkable proficiency in crisis management. Yet, Lindy's influence transcends conventional boundaries; she is a forward-thinking visionary, proficient in identifying risks and leveraging emerging technologies, guaranteeing a secure digital landscape for the UK and beyond.
Early Life and Academic Foundation
Born in Belfast, Lindy's upbringing was influenced by her father's involvement in the Corrymeela Community Peace and Reconciliation Centre. This early exposure to peacebuilding would later intersect with her professional journey in significant ways.
Lindy's academic journey commenced at the University of Oxford, where she immersed herself in the study of modern history. This foundation paved the way for a Fulbright scholarship, which took her to Tufts University to explore international relations. These formative years laid the groundwork for a career dedicated to the intersections of international development and security.
Pioneering Career in International Development
In 1998, Lindy embarked on a pivotal chapter of her career at the Department for International Development (DFID). Over time, she ascended through the ranks, assuming critical roles in regions as demanding as Iraq and Afghanistan. Her tireless contributions were recognised with the award of an Order of the British Empire, a testament to her dedication.
Her professional journey traversed diverse terrains, spanning key positions in various government offices, including the Cabinet and Foreign Office. This expansive portfolio saw her navigating challenges ranging from trade and development in Africa to leading the Helmand Provincial Reconstruction Team.
Culminating her tenure at DFID, Lindy assumed the role of Director General at the Northern Ireland Office and the Department for International Development, where she oversaw a substantial budget of £4 billion. These significant positions allowed her to leverage her expertise in shaping policies with far-reaching impacts.
Reshaping the Future of Cyber Security
In October 2020, Lindy became the CEO of the National Cyber Security Centre (NCSC), the UK's premier authority on cyber threats and resilience. Under her vigilant leadership, the NCSC adeptly navigates a dynamic cybersecurity landscape, swiftly responding to hundreds of incidents each year.
Lindy's vision goes beyond the traditional. She's not just safeguarding critical infrastructure; she's a forward-thinker, identifying risks and seizing opportunities in emerging technologies. Her inaugural address struck a chord, celebrating the audacious move to establish a public-facing cyber security institution. With a vigilant eye on evolving threats, she's determined to make the UK the safest place to live and conduct business online, underpinned by a robust cyber resilience strategy.
Lindy also sounds the alarm on the pervasive threat of ransomware in the UK's cybersecurity landscape, emphasising the need for ceaseless preparedness. In fact, she addressed this very issue at Tel Aviv Cyber Week in June 2022. With Lindy at the helm, the NCSC is shaping a secure digital future for the UK, as well as globally, exhibiting unwavering determination and strategic foresight.
Recognitions and Advocacy
Lindy's impact has been recognised in many ways. She was awarded an Order of the Bath in the 2020 Birthday Honours for her exceptional contributions to international development. Additionally, just last year, she clinched the top spot in Computer Weekly's UKtech50, a competition that lauds the 50 most influential figures in UK tech.
Lindy also stands as a proud champion of girls in tech, playing a pivotal role in NCSC's annual CyberFirst Girls online competition. Geared towards introducing girls aged 12 and 13 to the world of cyber security, the competition aims to enhance diversity in the industry, drawing thousands of participants annually. Lindy's critical involvement in the competition not only showcases her dedication to empowering girls in tech but also affirms her commitment to diversifying and fortifying the cybersecurity sector.
Lindy Cameron's trajectory in cybersecurity mirrors her steadfast dedication to advancing national and global security. Her strategic insights and visionary leadership continue to shape the UK's cybersecurity landscape, confirming her status as a trailblazer in the field.
Make sure you are following MCS to see our weekly Tech Talent blog alongside numerous job opportunities across several sectors!