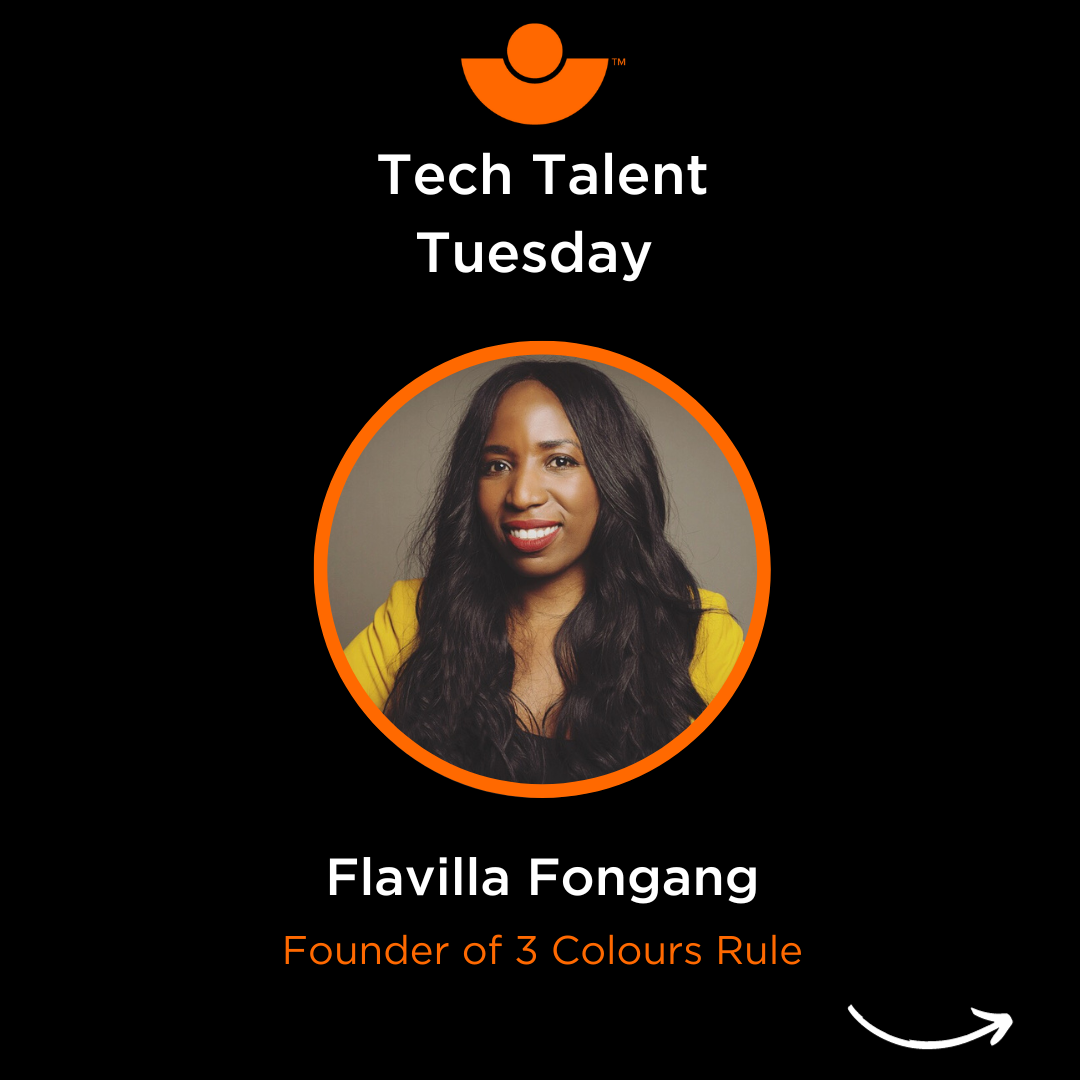 Founder of the award-winning branding and marketing agency, 3 Colours Rule, Flavilla Fongang is a marketing trailblazer. Born and raised in Paris, Flavilla's early years were marked by her tenacity and thirst for knowledge. Despite arriving in London with limited English proficiency in 2002, she wasted no time in pursuing higher education. Very quickly, she earned a BA in Economics & Law as well as in Marketing & Communications. She then pursued an MA in International Business and graduated with distinction. These remarkable feats showcase both her determination and her unwavering commitment to personal and professional growth.
An Innovator, Mentor, and Acclaimed Speaker
Flavilla made her mark in the tech industry with the founding of 3 Colours Rule, a venture that revolutionised brand communication by effectively engaging diverse audiences. Her pioneering D.A.C. system and Beyond Marketing Approach have brought about transformative change in the field. Furthermore, her positive attitude and vibrant personality have endeared her to clients, helping them to achieve incredible business outcomes. In recognition of the company's novel approach, Flavilla has garnered numerous accolades, including WeAreTechWomen's prestigious Editor's Choice Award.
Beyond Flavilla's personal successes, she is also passionate about sharing her knowledge and expertise with the next generation of leaders. She is an Entrepreneurship Expert with the Entrepreneurship Centre at Saïd Business School at the University of Oxford, an instructor for LinkedIn and the CXL Institute, a guest lecturer at Goldsmiths University, and a mentor at London Metropolitan University.
Flavilla's influence reverberates globally through her captivating multilingual keynote addresses. From the prestigious stages of AdvertisingWeek and AdWorld to the dynamic forums of MozCon, CTA Conference, MarTech Fest, DMWF, Orbit, and beyond, she captivates audiences with her inspirational messages.
Flavilla's accolades are a testament to her influence and impact. In 2022, she was recognised as the most influential woman in tech in the UK by Computer Weekly and LinkedIn. This follows a string of other prestigious awards, including the Entrepreneur of the Year at the BTA Awards, the STEM Entrepreneur Award, and the Role Model of the Year at the DETA Awards in 2023.
Championing Equality: Flavilla's Impactful Journey in Advocacy and Empowerment
Flavilla's impact transcends the business realm, touching lives and creating impactful social change. As a UN delegate championing women's rights worldwide, she stands at the forefront of a movement towards a more inclusive and equal future. Her brainchild, Global Tech Advocates – Black Women in Tech, stands as the largest organisation of its kind, providing a supportive network for black professional women in tech, empowering them to break barriers and achieve their potentials.
Moreover, since 2021, Flavilla has been curating a collection of powerful narratives from black women in tech, encapsulating their journeys in a book aptly titled: The Voices in the Shadow. These stories, brimming with resilience and innovation, serve as a source of inspiration for the next generation. Flavilla's unwavering dedication to education and empowerment shines through as she generously distributes these books to secondary schools across the UK and Ireland, ensuring that these trailblazing women's legacies continue to light the way for generations to come.
Conclusion: Inspiring Through Determination and Innovation
Flavilla Fongang's journey is a testament to the power of determination, innovation, and a relentless pursuit of excellence, proving that with passion and purpose, any obstacle can be overcome, and every goal can be achieved.
Make sure you are following MCS to see our weekly Tech Talent blog alongside numerous job opportunities across several sectors!