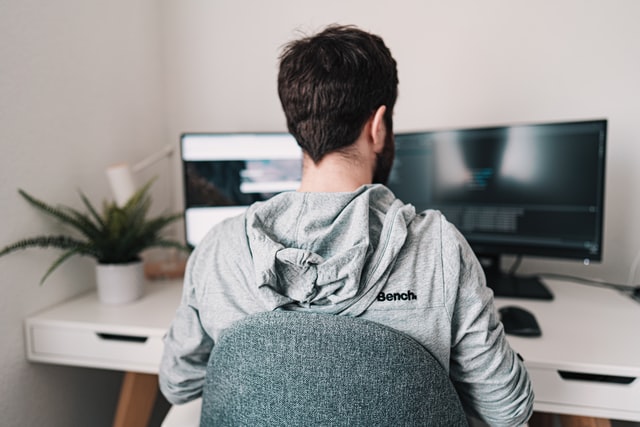 The NI tech market is made up of a mixture of out-and-out contractors and permanent staff, but with the demand for contractors increasing, there has been a steady increase in permanent staff making the leap and jumping into their first contract roles. 
Are you currently working in a permanent IT role but wonder what the career journey of an IT contractor would look like? 
Then check out this blog where we hear from Andrew, a Software Engineering Contractor. 
Andrew has been a contractor for 4 years and is skilled in Node.js and React. Andrew talks with Head of IT Contract Recruitment Jill Johnston, on his journey as a contractor, his challenges, and his advice for first time contractors. 
1. How long have you been a contractor and what made you decide to leave permanent working? 
I have been taking on contract work now for 4 years. I decided to move away from permanent employment for a few different reasons. The top reason would be to take full control over my own career progression, to gain a wide breadth of knowledge and skills in various industries. I have been lucky to work with clients within the areas of challenger banking, clinical research, healthcare, insurance, data warehousing, hospitality and UK Government projects.
2. What benefits do you feel working this way provides you and your life? 
The relationship between the contractor and client shows the traits of a business-to-business engagement, in that there is more emphasis placed on deliverables and quality of work. 
Being trusted to deliver work to a high standard, allows for a healthy working environment. It helps to mitigate micromanagement and open the door to remote working, something that has been very important to me personally.  I have also seen a huge benefit in working across many projects when it comes to learning new skills and working with new tech. 
3. What challenges do you think are commonplace for IT Contractors? 
Finding contracts that represent a true business-to-business engagement can be challenging.  The contracts that still behave like an employment engagement can be hard to spot in the early stages of looking for your next project. 
Such projects can negate a lot of benefits of contract working, such as being able to take ownership of your work and making decisions on architecture and implementation.
4. Why do you prefer contract work over permanent employment? 
I prefer contract work over permanent employment mostly for career progression, in that I could focus on certain technologies, but also be exposed to many different problem domains and industries. In permanent employment I found that the opposite was true. It was more natural to find yourself working in the same problem domain for years. You would have a great depth of understanding in the problem area or industry but not really a breadth of knowledge that you gain with working for multiple clients and in multiple industries. 


5. What advice would you have for anyone considering moving into the contract market? 
Be sure that you are comfortable and competent in the area of expertise that you will market yourself within.   
Some projects can really throw you into the deep end, where you may be the only person on your team, or in the company, with the skills for the task you have been assigned.  There may not be the 'Senior' figure to go to for help.  Take control of your own career progression and be sure to set aside time for training, making sure you keep up to date with new tech.   
There may also be times where you are in between projects, and therefore have a reduced income. It is no secret that monthly take-home pay can be higher than permanent employment however you do need to account for time between projects, annual leave and sick days, and other expenses such as accountancy, insurance, and your own equipment. 
If you are reading this and thinking, 'You know what, it is time for a change,', we would love to hear from you.    

Contact Jill Johnston, Head of IT Contracts, j.johnston@mcsgroup.jobs or call on 028 96 935 509 for a confidential conversation about potential contracting roles for you.