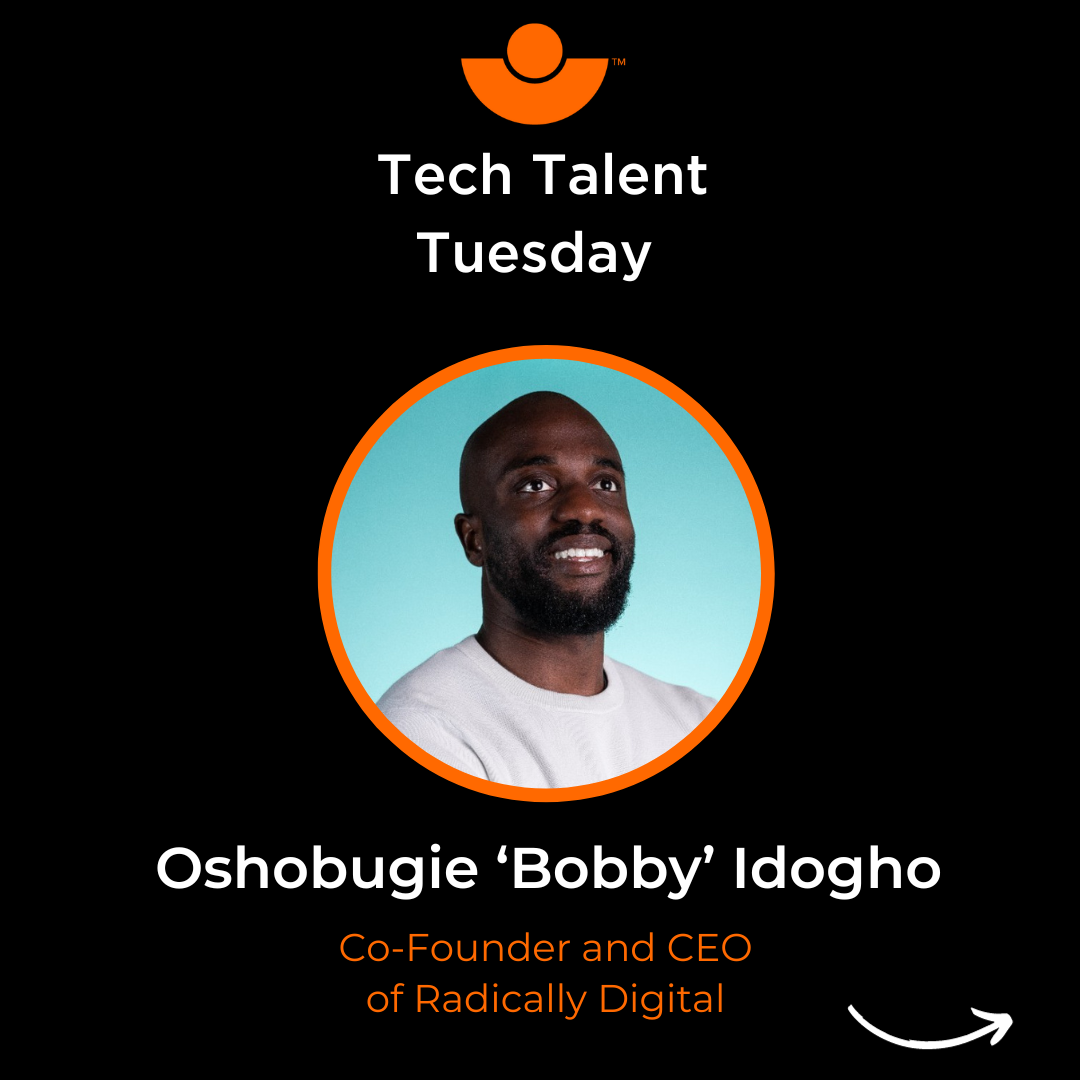 Oshobugie 'Bobby' Idogho, Co-Founder and CEO of Radically Digital, is bringing a fresh perspective to the digital world. Born in Nigeria and now a prominent figure in the UK tech industry, Bobby's ambition and dedication to diversity and inclusion have yielded remarkable results.
Moving to Ireland at the age of seven, Bobby's passion for technology began to take shape during his formative years. He honed his skills and knowledge at Trinity College Dublin, graduating with a degree in Management Science and Information Systems Studies, achieving First Class Honours.
Bobby's professional journey began at Deloitte as a Technology Consultant, where he quickly recognised the need for a consultancy that could offer clients innovative and forward-thinking solutions. This realisation led him to found Radically Digital in 2019 at the age of 25, a Software Consultancy company centred on agility, cultural values, and a people-first approach. At Radically Digital, the focus lies in crafting websites, apps, and digital platforms with a strong emphasis on enhancing customer experiences through technological advancements and a skilled workforce.
Bobby's motivation to establish the company stemmed from various factors. Bobby identified a cultural shift in employee expectations, which presented challenges for traditional consulting firms, including major players like Deloitte, KPMG, PwC, and EY, in attracting and retaining top digital talent. His vision for Radically Digital was clear: infuse a scale-up mindset into enterprises by leveraging the diverse expertise of his team to assist start-up founders in designing and engineering a range of digital products. This bold move was driven by Bobby's desire to break free from complacency and realise his dream of building a company that reflects his ideals, even without concrete plans in place at the time.
With no financial backing, Radically Digital achieved a remarkable £400,000 in revenue in its first year. This figure skyrocketed to £3 million in its second year and an impressive £5 million by the end of 2022. Bobby aims to achieve a revenue target of £8 million by this year's end, a figure which is certainly attainable due to the company's exponential growth and high-profile client base.
To strategically address challenges in the London market, Bobby has also expanded Radically Digital to Lisbon, Portugal, tapping into a diverse talent pool and providing resilience amidst Brexit uncertainties. With dual headquarters, the company is poised to serve both the UK and European markets effectively. Looking ahead, Bobby aims to further expand Radically Digital across the UK and into Africa, driven by successful projects like a digital transformation venture with a major Nigerian fintech company, which has paved the way for an office in Lagos and a tech talent boot camp.
In 2022, Bobby earned a well-deserved spot in the Forbes 30 under 30 list for his remarkable contributions to the tech industry. He was also one of the 8 finalists nominated for 'Small Business Entrepreneur of the Year' award in the Great British Entrepreneur Awards 2021.
Bobby is a staunch advocate for diversity and inclusivity within the business realm. Understanding the pivotal role of creativity in the tech industry, Bobby appreciates that customers come from a wide array of backgrounds, encompassing different socio-economic statuses, ethnicities, and neuro-diversities. This insight fuels his determination to break free from traditional hiring norms, recognising that a homogenous team will inherently yield a narrow perspective.
Bobby's broader mission extends to increasing visibility and impact for leaders of colour, who remain a minority in their field. Additionally, he places a strong emphasis on gender diversity, with Radically Digital's workforce boasting an impressive 42% female representation, nearly doubling the industry average. The company actively employs measures to eliminate potential biases in assessments, reflecting a broader commitment to inclusivity. Bobby's innovative approach even extends to non-traditional hires, acknowledging that formal education in the IT sector does not define potential. This forward-thinking philosophy stems from his own experience, as the company's first and subsequently most highly-talented engineer was self-taught and had no formal engineering experience.
In line with his vision to improve access to technology careers, Bobby is set to launch an academy. This initiative aims to inspire individuals from non-traditional backgrounds to pursue careers in tech, nurturing the next generation of digital innovators.
Bobby Idogho's determination, resilience, vision, and patience are tremendous, and it is clear that he has made and will continue to make a profound impact on the digital business landscape.
Make sure you are following MCS to see our weekly Tech Talent blog alongside numerous job opportunities across several sectors!